About Orana Engineering
Orana Engineering began its operation as a provider of engineering services to the surface operations of coal mines and metalliferous mines. Having extensive prior experience working for mining operations and observing that many mining and heavy industrial operations had closed down their internal engineering departments, the management of Orana Engineering identified a void to which it could add value to its clients' business. For Orana Engineering this strategy has been very successful, with its success built on the foundations of the company's business model, mission statement and the discipline of having them engrained into the everyday operation of the business. Orana Engineering has expanded its market providing engineering services into the sectors of underground coal, underground metalliferous, oil and gas, heavy industrial and government. Orana Engineering has also expanded its engineering services to include project management, client engineer and drawing management (a service highly valued by our clients).
We're working with these companies
Orana Engineering's Business Model
A business model was developed with the primary goal to in effect become a site's engineering team, to fill the void and provide discipline specific engineering and design drafting service for the day to day "breadcrumb" engineering projects that are common on an operating site. For the plan and the business to be successful, the directors identified that Orana Engineering needed to act as if we were the site's engineers, by which we needed to:
Be there for the long haul - knowing the client's site, its business, its operations and its people would allow Orana Engineering to provide a superior engineering service that takes into greater consideration the overall requirements for a site;
Be flexible – allow the client to feel that they can call upon us any day or night and that we will be available to consider and address their matters in a timely fashion;
Communicate – recognise that communication is the most important element to the success of any project:
Have the right people – tackling the variety and diversity of a site's projects is not suited to everyone, it needs people who are flexible, practical and most importantly good communicators;
Know what we don't know – don't take on engineering projects for which we do not have the expertise, but incorporate in our supply the services of those who do;
Maintain a good reputation – recognise that we will only be seen to be as good as the sum of all our jobs, or as bad as our last job;
Be considerate of our clients' needs – understand the hurdles and difficulties that they face in their job and ensure that we do not add to them, rather that we remove them and thereby help them to do their core job;
Have high standards, ethics and morals – being trustworthy and reliable builds relationships;
Provide stability – be consistent, structured and disciplined; and
Be appreciative – recognise that receiving the next purchase order is a show of appreciation.
Orana Engineering has found this business model to be highly successful and valued by our clients and largely a source of stability for the business and the staff of Orana Engineering.
Orana Engineering's Mission Statement
Orana Engineering aims to develop long term relationships with a select group of mining and heavy industrial companies with the goal to be their preferred engineering services provider for their:
Small to medium size single and multi-discipline engineering design projects;
Drawing management; and
Single and multi-discipline design drafting revisions relating to operations and maintenance activities.
To achieve this mission, Orana Engineering together with its workers shall:
Promise only what we can deliver and deliver what we promise;
Never forget that employees are the business' most valuable asset;
Strive to always act in the best interests of the community, environment and clients; and
Respect and value the experience and knowledge of clients' opinions, views and requirements.
Orana Engineering's Business Philosophy
Orana Engineering promotes a business philosophy that it believes will offer the best opportunity of achieving the company's Mission Statement. The philosophy as represented by the following image in principle considers that: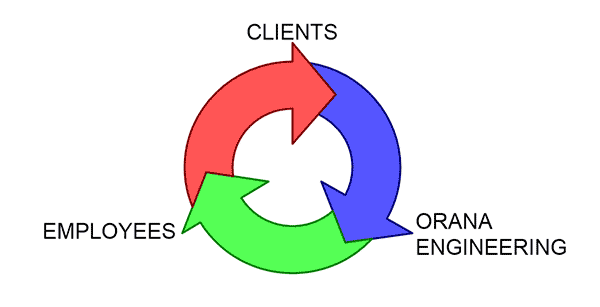 If Orana Engineering looks after its employees by striving to:
i) Pay industry competitive salary packages;
ii) Provide relevant training;
iii) Take into account individual personal and family requirements where possible; and
iv) Generally make the work environment safe and enjoyable to work in;
Then the employees shall look after Orana Engineering's clients by:
i) Communicating, listening to and identifying the clients' needs and keeping them informed;
ii) Providing timely and cost effective solutions; and
iii) Performing work that is to a high standard acceptable to the client;
Then clients are more likely to look after Orana Engineering by:
i) Paying for services provided;
ii) Choosing to use Orana Engineering for further and future work; and
iii) Recommending Orana Engineering to other companies;
which then in turn provides income and growth necessary for Orana Engineering to look after its employees.